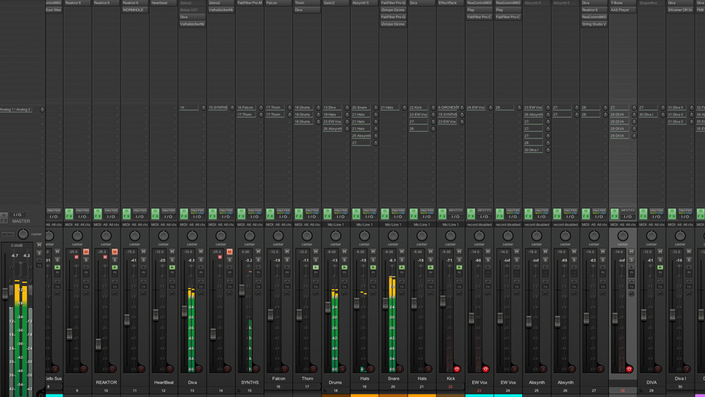 Mixing & Mastering for Producers
A modern approach to the age-old art of Mixing & Mastering
Mixing & Mastering for Producers
Did you ever get confused by all those Youtube videos showing you how to mix a track that has already been fully produced? What about the production stage itself, isn't that sort of mixing as well? Where does one end and the other begin?

These are good questions to ask, but often difficult to find answers for.

The truth is, most modern producers don't wait until the track is done before they start mixing. With modern tools and workflows it is hard to separate where sound design/production ends and where mixing begins. In our course we explain the complete workflow: from the start (mixing/processing while producing) to the final details (arrangement, creative mixing and mastering).

This 12 week course is separated in two different parts, in the first 6 weeks we'll learn all the basics about Gain Staging, Compression, EQ, Delays, Reverbs, etc. In the second half of the course we'll revisit all of these but this time from a production/Sound-Designer point of view, which opens up a whole new world of possibilities. You'll start to understand how one tool has multiple purposes, and how you can fluently switch between the various uses. At the end of the course you'll be able to Understand Sound, instead of just being able to "Mix" or "Produce"

Getting control over your sound is a powerful feeling; it allows you to be more creative and it makes mixing and finishing your songs a whole lot easier.

Whether you are a beginner or advanced producer, our online training is designed to help you make your tracks sound powerful and professional, getting everything to sit right in the mix and creating engaging and interesting arrangements.

All students get lifetime access to the course videos (including updated lessons) as well as academic discounts on software and plugins.
Most importantly, you'll learn how to make your track sound professional. Getting a deeper understanding about the mixing tools that you already have will open up a world of new possibilities, you will start to recognise bad habits, identify problems during mixdown and finish more tracks.
After the course you will be able to:
Identify various common problems during the mixing and production processes, and learn how to avoid them

Understand how sound works, and master your tools to manipulate your sonic landscape

Hear what compression does, and know how to use the different types (sidechain, parallel, multiband, Mid-Side)

Learn how to use your tools in a variety of ways (Compressors can do much more than just compressing!)

Apply creative mixing techniques in exciting new ways

Understand mixing tools and know when and how to use them

Make energetic, sharp, full sounding, and loud mixes
Lesson Plan
Introduction
Which Mixing Mindset should you adhere?
Working with headphones vs. monitors
Reference tracks & Analysis
Project Organisation and Workflow
Managing your CPU
Maximising your Creativity
Compression
Understand compression and learn how to hear the effect of it.
Compressor types: VCA, FET, Opto etc.
Compressor Parameters
Drum Compression
Compression for Instruments & Vocals
Analogue vs. Digital Compressors
EQ
EQ Basics
Subtractive vs Additive
Resonance
Drum EQ
Instrument EQ & MixBus EQ
Modulation FX
Delays, Chorus, Flangers, Phasers -
Creative use of FX
FX Chains
How "To Stereo"
Sample Delays & The Haas Effect
Imagers
Microshifting
Mid/Side Processing
Distortion
Instrument & Mix Saturation/Distortion
Saturation Types: Transistor, Tube, Tape, Console
Waveshapers
Cabinets & Amp Models
Reverbs & Spacing
Digital, Plate & Spring Reverbs
Convolutions (IR Reverbs)
Binaural Reverbs
Reverb from Delays
Reverb for proximity
Advanced Compression
Compression for Sound-Design
SideChain Compression
Multiband Compression
Expansion & Multiband Expansion
Advanced EQ
Boosts & When to use them
Using EQ's like Filters
Formants
Automating EQ Bands
Advanced Modulation FX
Delays 2.0 (Comb Filters)
Chorus 2.0
Flangers 2.0
Phasers 2.0
Advanced Distortion
How to use Distortion Creatively
Advanced Stereo Width and Reverbs
Synth Stereo Width
Binaural
Binaural Reverbs
Sound Design with Impulse Responses
Frozen Reverbs
Tuning Reverbs
Automation & Arrangements
Transitions
Expression
MIDI CC's (Modwheel, Expression, Aftertouch, Velocity, etc.)
Tension & Release
Creating Contrast
Embellishment
Mastering
Overview to Mastering
Mastering Terminology (RMS, LUFS, True Peaks, etc.)
Know Thy Target, Analysis & Reference Tracks
Finding sweet spot between loudness and dynamics
Masterbus Saturation, Widening, Exciting, Compression
Mid-Side Multiband Compression
The Limiter
Songs from Scratch
A series of videos showcasing the Mixing&Producing mindset in action
Frequently Asked Questions
When does the course start and finish?
The course starts now and never ends! It is a completely self-paced online course - you decide when you start and when you finish.
How long do I have access to the course?
How does lifetime access sound? After enrolling, you have unlimited access to this course for as long as you like - across any and all devices you own.
This course is closed for enrollment.